InnoPhase IoT unveiled end-to-end (E2E) sensor-to-cloud capabilities based on its Talaria TWO Wi-Fi/BLE SoC and modules. The 10+ years of battery life opens a myriad of IoT design opportunities in the current transition to battery-powered cloud-connected IoT use cases.
InnoPhase IoT claims it is delivering an industry-first solution that combines fast time-to-market, cloud connectivity, low power, long battery life, and low total cost of ownership (TCO). Target applications include smart homes, factory automation, commercial building management, access and air quality monitoring, smart retail, and more.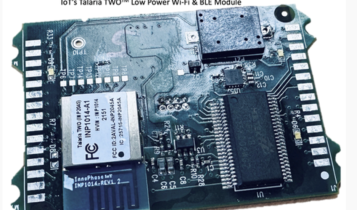 Recent use cases using the solution include:
A temperature probe and cloud connectivity gateway solution for a remote temperature monitoring IoT application from IoT device developer, Matrix Product Development
A battery-operated wand from Sunsa Homes enables customers to control their window blinds via iPhone and Android apps, connecting directly to Wi-Fi without using a hub.
A BLE Beacon Gateway connectivity solution from Eoxys that interfaces with Bluetooth, enables IoT devices, and provides Wi-Fi cloud connectivity
Embux Technology adopted the solution to achieve extended battery life, cloud-connected sensors for its industrial access points and gateways
The solution is currently available, a reference design is ready for evaluation, and OEM solutions are available for fast time-to-market and high-volume production.
Innophase will demo the technology at the IoT Expo in Santa Clara, booth 260 in Santa Clara, California, May 17-18.